At Toastmasters International each program year starts on July, 1st. The new officers are inaugurated, take over work and shortly after have their officer training sessions and set up goals for the upcoming year. Happy New Year to our club officers 2023/24 and all members.
For the new Toastmasters year, Sebastian Hense takes over as club president after having joined the club only in 2019. He follows Marie-Claire Lutzke who now takes the role of Vice President of Education. She replaces Dominique Lutzke who puts her passion into her new role as Vice President of Membership and also as Secretary. Lars Droege and Michael Friess continue their work as Treasurer and Vice President of Public Relations (plus Sergeant at Arms).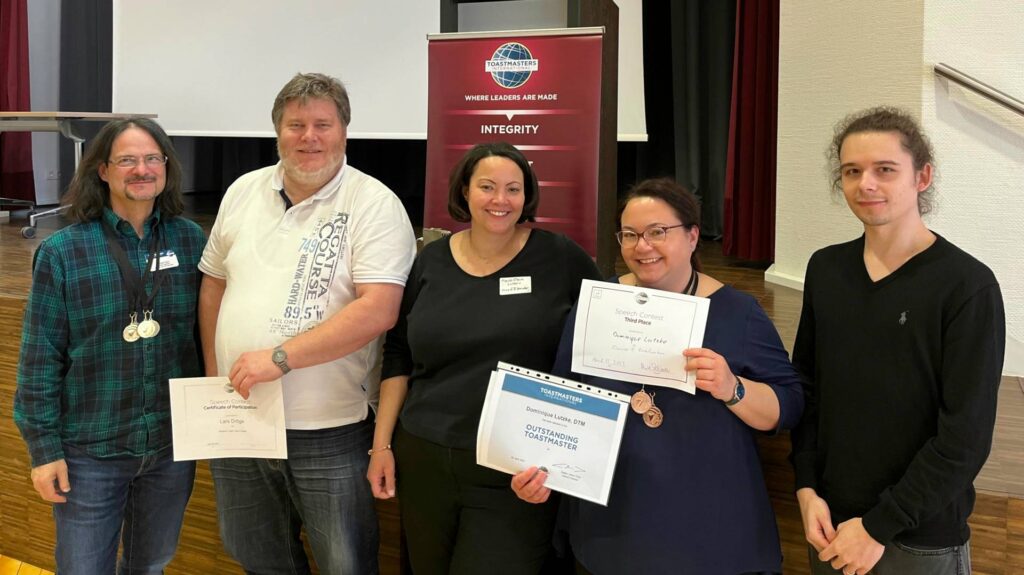 In addition, Marie-Claire continues her active engagement in the broader Toastmasters organisation as new Director of Division E covering more or less the state of Baden-Württemberg. As such she is already busy organising the upcoming Club Officer Training (COT) for Division E.
Congratulations to all club officers 2023/24 – especially Marie-Claire and Sebastian – and a successful start and COT session. Consider these tips for success in your new leadership roles: Congratulations, club officers! (from the July 2016 edition of the Toastmaster magazine).
If curious about the role of the club officers you find more information in the Club Leadership Handbook.